MISSION STATEMENT
When MwALT was created in 1999, the first Officers established a Mission Statement for the organization. The Mission of MwALT is presented below.
---
ASSOCIATION FOR LANGUAGE TESTING & ASSESSMENT AT ALL EDUCATIONAL LEVELS
The purpose of the Midwest Association of Language Testers (MwALT) shall be to foster understanding of the principles of language assessment in educational settings in the Midwest. MwALT shall serve to:
Stimulate professional growth through workshops and conferences
Promote the dissemination of information related to language assessment
Foster opportunities for training in language assessment
Provide leadership in language assessment
Offer professional services to its constituencies
Increase public understanding and support of language assessment
Recognize outstanding achievement in language assessment
Establish links with other groups interested in language assessment.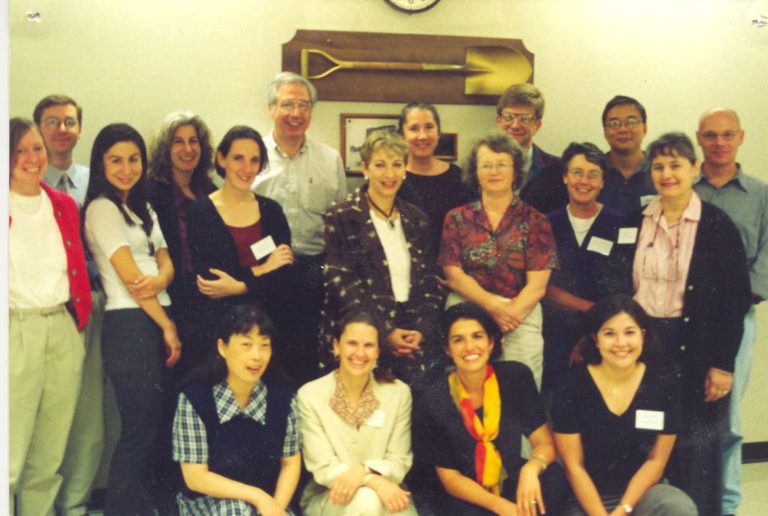 The Inaugural MwALT Conference was held at the University of Iowa, September 17-18, 1999.
Participants pictured above include, standing left to right, Carol Chapelle (Iowa State), Jeffrey Abbas (Iowa), Marina Kostina (Iowa), Judith Liskin-Gasparro (Iowa), Ana Oscoz (Iowa), Paul Angelis (Southern Illinois), Margo Gottlieb (Illinois Resource Center), April Ginther (Purdue), Felicity Douglas (Iowa State), Fred Davidson (Illlinois), L. Kathy Heilenman (Iowa), Chuanren Ke (Iowa), Mary Spaan (Michigan), Craig Deville (Iowa); kneeling, Yi Lin (Iowa), Leslie Grant (Central Michigan), Micheline Chalhoub-Deville (Iowa), Alicia Crowe (Iowa). Photographer: Dan Douglas (Iowa State).